Instant has two countertop oven styles. The Vortex series and the Omni series. While the Vortex models are perfect for air-frying-lovers and space-saving, models like the Instant Omni Pro are their luxury ovens.
Watts: 1,800 Watts
Temp Range: 70° – 450° F
Capacity: 18L (4 lb. Chicken) (12.75″ W x 12″ D x 6″ H)
Exterior Dim: 16.5″ W x 15.5″ D x 7.6″ H
Racks: 1-4
Pieces Of Toast: 6 per rack
Max Pizza Size: 12″
Rotisserie: Yes
Air Fry: Yes
Thermometer: Yes
14-in-1 cooking functions (Best-in-class)
Rotisserie cooking function can cook a 4-6lb chicken
Proof cooking function for homemade bread, buns, and more
Convenient hidden pull-out crumb tray
Big and beautiful LCD touch screen controls and easy to clean
Split Cook for 2-stage cooking
High and low convection fan speed option
Temperature range as low as 70° F
72-Hour max cook timer is perfect for dehydrating
Inspirational recipes available at: recipes.instantpot.com or on the Instant Pot app
The location where the Integrated Temperature Probe connects to is in a weird spot
Interior is barely deep enough to fit a 12″ pizza and overall smaller than the previous model
Not wide enough to fit most 9″ x 13″ baking pans (especially with handles)
     Just like Instant Pots, the Instant Omni Pro has more than 10 ways to cook. Here's a full list of the cooking functions:
Bake
Broil
Roast
Convection
Toast
Slow Cook
Air Fry
Rotisserie
Keep Warm
Split Cook
Proof
Temperature Probe
Dehydrate
Reheat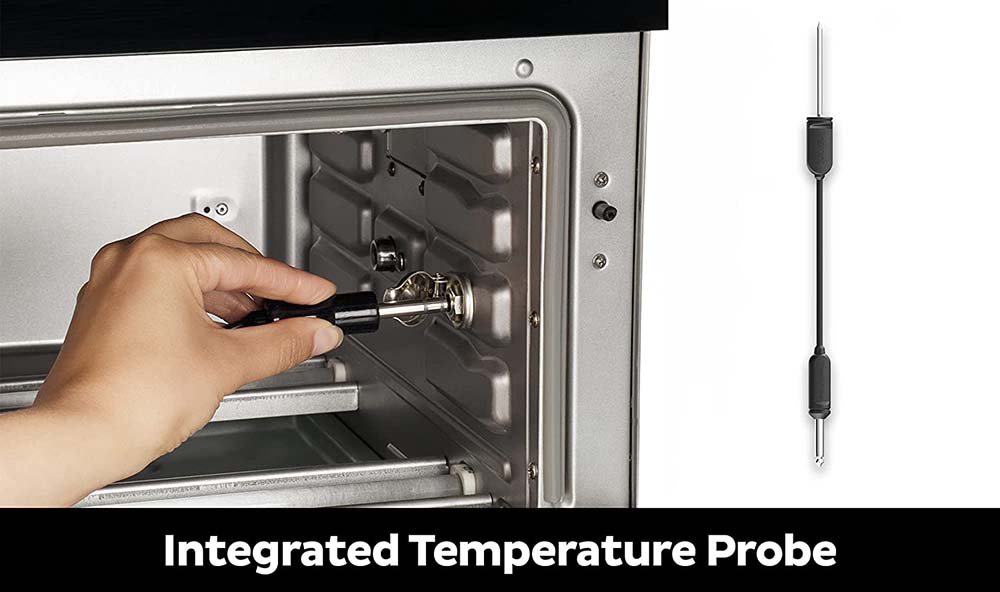 The Instant Omni Pro is automated in all the right areas. For example, you get 7 toasting levels for perfect toast every time, even if you like it burnt. Plus, the Split Cook mode is fully customizable, allowing you to pair two cooking functions or temperatures back to back.
My personal favorite smart feature is the Temperature Probe cooking function. No matter what type of protein you're roasting or baking, it comes out perfect every time. It even shows the external and internal temperatures on the digital display.
To put it simply, each cooking function has its own customizable cooking program. Besides the Rotisserie and EvenCrisp" Air Frying, here are some of the other unique cooking functions…
The Rotisserie cooking function isn't always something you see on toaster ovens, so it was nice to see it included on the Omni Plus. Even though they advertise that it can cook up to a 4 lb chicken, you can squeeze a 5 or 6 pounder in there if you truss it right.
A feature we see even less on countertop ovens is the Proof function. Used to process dough, you can create homemade bread, croissants, bagels, and more.
It essentially turns your Omni Pro into a proofing chamber by regulating the temperature and humidity levels for optimal fermentation.
Along with Proofing, the Dehydrate cooking mode is another function that takes advantage of the accurate low-temperature qualities of the golden quartz heating elements.
With a minimum temperature that can get down to 70° F, you get full control of the drying speed. Plus, dehydrating at lower temperatures ensures that you get the best quality and most nutritious dried fruits, nuts, and meats.
Since they market this as an 18 L capacity, you might think it's a downgrade from the previous 26 L model. However, it's just the opposite.
Most of the eliminated capacity is outside of the available cooking space. One of the most significant improvements is that it takes less time to preheat. Also, that's 8 fewer cubic liters to reheat every time you open the door to check the food.
In the end, even though you're losing a little bit of cooking space, you get a much more efficient oven overall.
Packed with tons of smart features to help anyone cook like a pro, the Instant Omni Pro is worth every inch of countertop space. Plus, it's still more compact than most countertop ovens with a similar cooking capacity.
It's also one of the best replacements for your microwave. No more rubbery leftovers or uneven cooking. Featuring Instant's EvenCrisp" air frying technology, you get a perfectly crisp and healthier version of your wings, fries, and other classics.
Here a some of the best accessories to get the most out of all 14 cooking functions:
If you like the Instant Omni Pro and want to save a few bucks, take a look at the Instant Omni Plus. You get all the essentials that make the Omni Pro a great tool in the kitchen, but you'll have to make some sacrifices.
If you can do without the Proof, Slow Cook, and Temperature Probe cooking functions, you're getting a steal with the Instant Omni Plus.