Maintaining a healthy lifestyle is hard if you don't have the right plan, and the most crucial part of that plan is making it easy with the best healthy tools.
JBL Charge 4 vs Charge 5: The Charge 4 is still a GREAT speaker, but the Charge 5 got upgrades in ALL the right places. Here are some things to consider.
READ BEFORE YOU BUY!!! We took JBL Charge 5 vs Soundcore vs Bose to find the Top 3 Portable Bluetooth Speakers of 2022!
The Anker Soundcore Motion Boom may look simple and unimpressive, but the sound is anything but basic. Check out what makes this the best speaker under $100!
The Anker Soundcore Life Q30 vs Beats Solo Pro is a hard matchup because it comes down to how you want to use them. Find your perfect set here.
The Beats Solo Pro are one of the best budget-friendly Bluetooth wireless headphones available. Pure Active Noise Cancelling, great battery life, and more!
Always coming out with rock-solid noise cancelling headphones at a great price, the JBL Live 660s are their most impresseive yet!
The Beats Fit Pro are their first earbuds with an essential fitness-friendly feature. See ALL the reasons why these should be your next set of workout earbuds! ►
The JBL Reflect Flow Pro have all the bells and whistles. Plus, they're some of the toughest wireless workout earbuds in the world!
Comparing the JBL Reflect Flow vs Reflect Mini pits tough-comfort vs tough-luxury. Either way, you get premium audio from these waterproof fitness earbuds.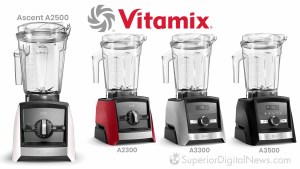 For 100 years, Vitamix has provided healthy tools for any kitchen. Now the Vitamix Ascent Smart Blender series has taken their name to a new level.
The Ninja SP301 Foodi Dual Heat Air Fry Oven has upgrades in all the right places. See how you can free up time AND space with this essential appliance.
The Cuisinart Chef's Convection Toaster Oven is a cook's best friend. With 11 main cooking functions, it's an essential tool for almost any size household.
Before you go out and spend hundreds of dollars on a smartwatch, check out our guide to the best smartwatches that's guaranteed to help you find the wearable that's right for you!
The Garmin Fenix 7 paired with the Garmin Connect app is one of the best one-two punches in multi-sport tracking wearables. Check out what they improved from the last model and some things they still need to get right.
Finding the best fitness trackers for kids is easy. Understanding what metrics to track, how to track them, and why, is the challenging part.