The Samsung Galaxy Buds Pro are basically the AirPods Pro of Android. They're packed with features, but there are a few things you need to know before you buy them. Especially if you own an iPhone.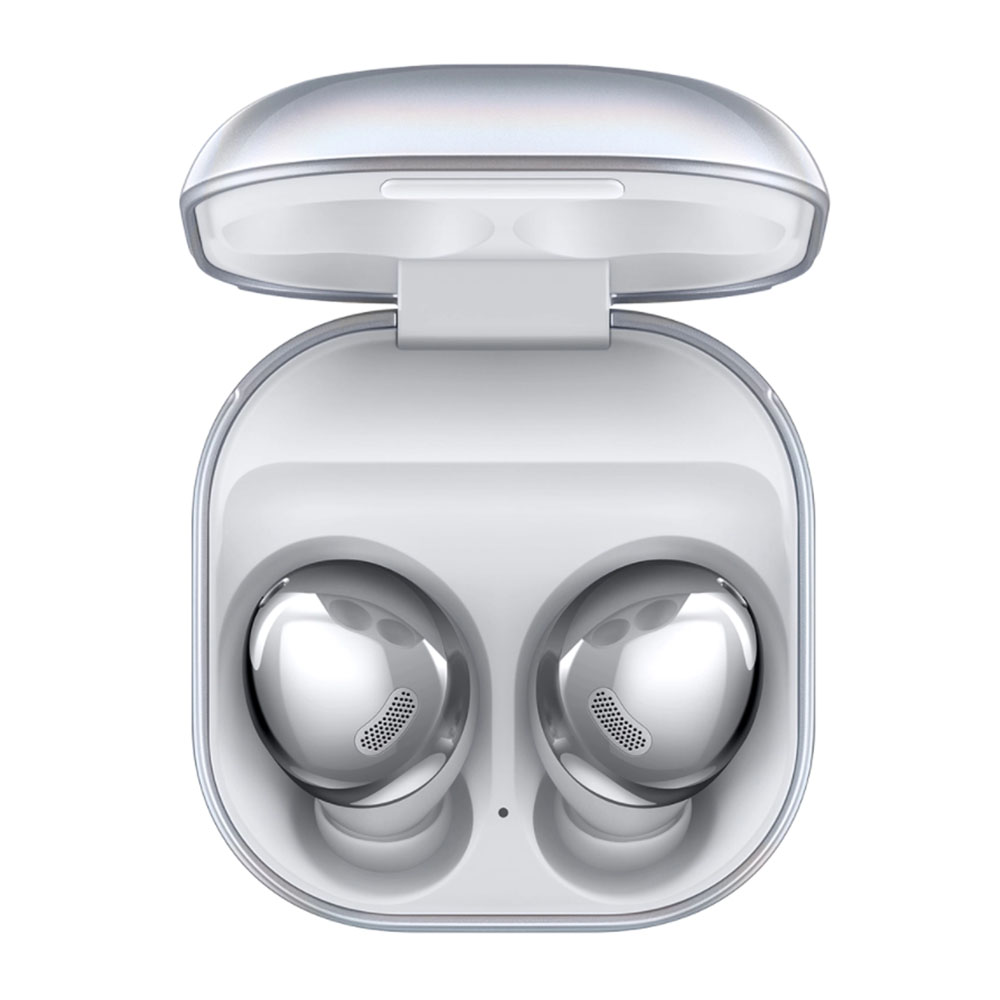 Samsung Galaxy Buds Pro Specs
Battery Life (ANC off): 8 hrs (28 hrs with charging case)
Battery Life (ANC on): 5 hrs (18 hrs with charging case)
Dust/Water Resistance: IPX7
Fast Charging: 5 min for 1 hour of listening
Charge Type: USB-C & Qi-certified wireless charging
Driver Size: 2-way dynamic drivers (11mm woofer, 6.5mm tweeter)
Bluetooth Version: 5.0
Noise Cancellation: Yes (Active Noise Cancellation)
Accessory Kit: 3 sets of ear tips & USB-C charging cable
Colors: Phantom Black, Phantom Silver, Phantom Violet, and White
2-Way speakers help reduce distortion and provide better overall audio range
Deep and responsive bass
Excellent durability and water resistance (IPX7)
Active noise cancelling
Voice Detection ambient mode
Decent battery life
Premium look and feel
Compact carrying case with wireless charging
Quick charging earbuds (10 min. for 85 min. of listening)
Custom on-ear touch controls
Only Bixby support (No built-in Google Assistant or Siri)
Only average battery life
Not compatible with Samsung Galaxy Buds app on iOS
No ear wings an extra secure fit
Just like the Apple AirPods Pro with the iPhones, the Samsung Galaxy Buds Pro are best used with Samsung Galaxy phones. Especially with flagships like the Galaxy S series, you can control your TV, send a message, search for new music, and more with Bixby hands-free commands.
You have full control over your audio experience with the Samsung Gear app. It's only available on Samsung and Android phones, but it's packed with luxury features.
You get a convenient dashboard that features the battery levels of the earbuds and the charging case. Also, you get an upgraded version of the Galaxy Buds Live and Buds+ settings panel.
Upgrades include ANC-to-Ambient mode toggle and 360° Audio. You even get a choice between 4 levels of Ambient mode, so you can tailor it to your surroundings.
Among the best new features is the Voice Detection setting in ambient mode. When it's turned on, just start speaking and the Buds Pro automatically switch from ANC to ambient, so you can hear your surroundings.
You even get to adjust how long after you're done talking before they return back to ANC mode. The 5, 10, and 15-second options are adequate most of the time, but it would be nice if they let you fully customize the time.
When it comes to full ANC mode, the Galaxy Buds Pro perform pretty well. They aren't as good as the Sony WF-1000XM series or Bose QuietComfort earbuds, but they deserve a 7 out of 10. They have an issue blocking out some higher frequencies, but they do a good job at
Unlike the Galaxy Buds Live and Buds+, there's no app support on iOS for the Galaxy Buds Pro. On the other hand, they can still connect to your iPhone and any other iOS device.
The problem is that you won't have access to even the most basic of settings. No active noise cancelling settings, touch control settings, or even EQ presets.
You'll only get the controls that come default like pause/play, skip, and switch noise controls toggle (ANC, Off, and Ambient Mode). (You can pair them to a Samsung device to adjust and carry over settings to your iPhone, but it's a hassle.)
If you choose these for any reason, it should be for the sound quality. Unlike most earbuds, the Buds Pro feature 2-way drivers.
One of the drivers is a 6.5mm tweeter that produces crisp and clear highs. The other driver is an 11mm "woofer" that produces clean and deep bass, even at higher levels.
Just like other Samsung earbuds, they have the AKG sound signature. To put it simply, it's the tuning that takes full advantage of all the premium audio hardware. Plus, they include some custom EQ presets, so you can tailor the sound to whatever genre you're listening to.
Unlike the other earbuds in the series, the Galaxy Buds Pro feature traditional round drivers. They're heavier and less efficient than the square dynamic drivers in other Galaxy Buds models, but they make up for it in sound quality.
It's unfortunate that they didn't make it compatible with the Samsung Wearables app on iPhone, but maybe we'll see some support in a future update. On the other hand, if you're a Samsung owner, there's no better set of headphones.
Packed full of luxury audio features, you can take the studio-quality sound anywhere. Combined with the IPX7 waterproof rating, these are also the most durable set of earbuds Samsung has ever made.