For 100 years, Vitamix has provided healthy tools for any kitchen. Now the Vitamix Ascent Smart Blender series has taken their name to a new level. See which one of these multipurpose blenders is perfect for you.
Vitamix Ascent Blender Series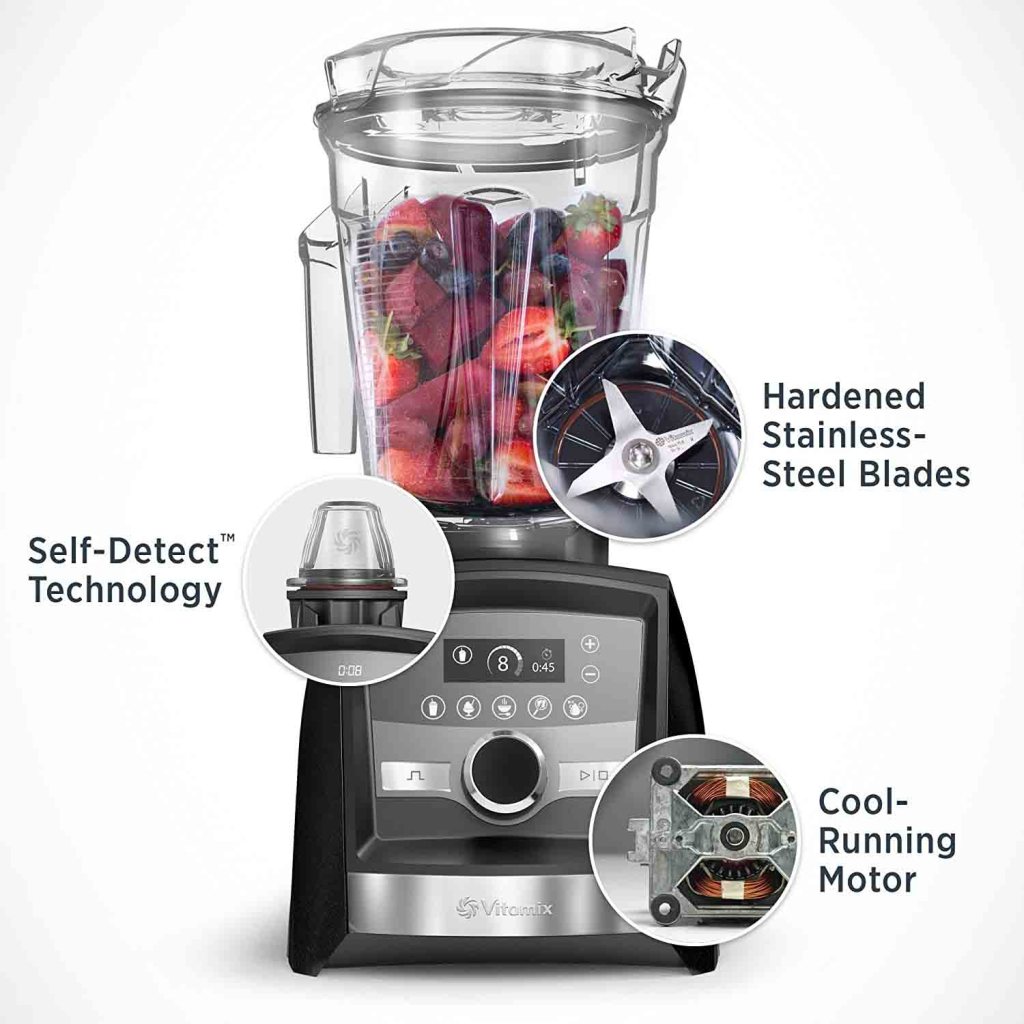 Motor Power: 2.2 HP (about 1,500 Watts)
Manual Speeds: 10 + Pulse
Onboard Programs:

A2300 & A3300 – None
A2500 – Smoothie, Ice Cream, and Hot Soups
A3500 – Smoothie, Ice Cream, Hot Soups, Spreads & Dips, and Self-Cleaning

Self-Detect Container Sizes: 64oz pitcher, 20oz cup, 8oz bowl, 48oz pitchers, and more

(Disclaimer: All Ascent models come with only the 64oz pitcher. The only exception is the Black A2300 model Family Pack, which includes a 20oz cup, two 8 oz bowls, and a Blender Base. All other containers are sold separately.)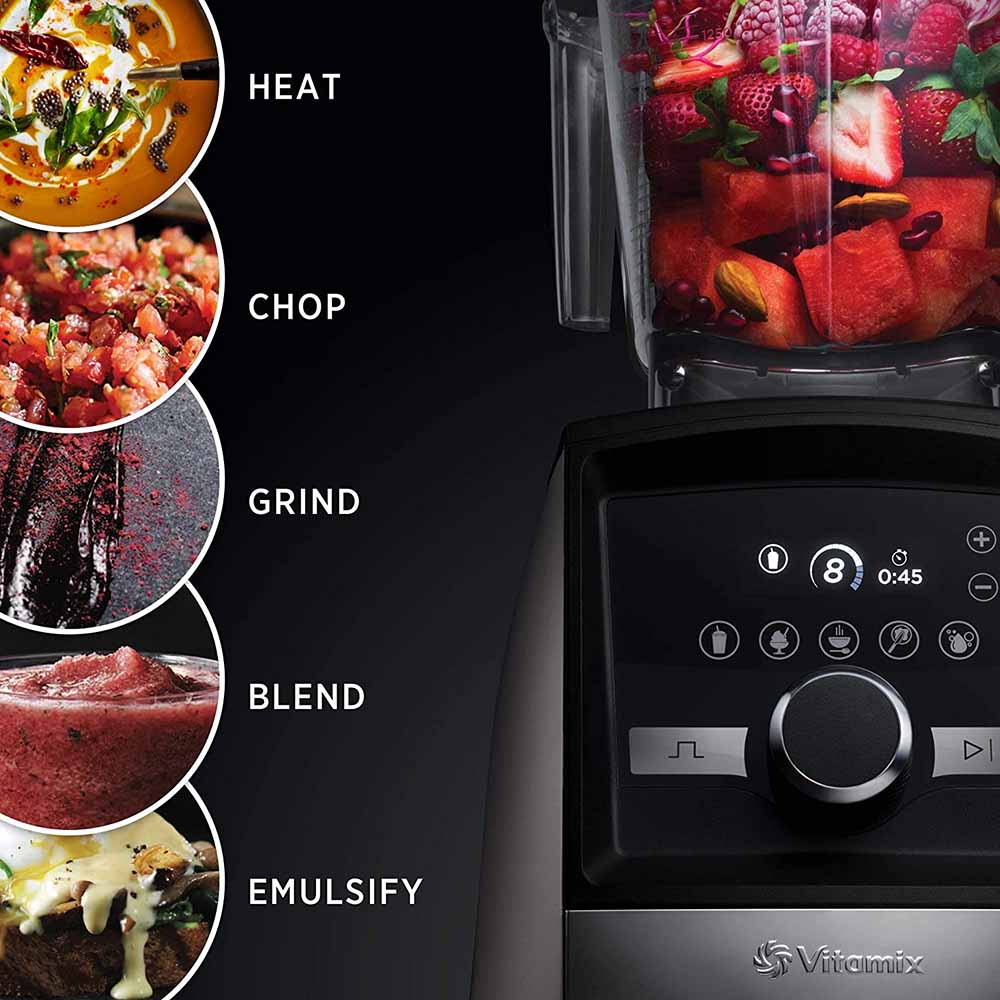 Low profile 64 oz blender pitcher
Compatible with multiple Self Detect container sizes, including 48 oz pitchers, 20 oz blender to-go cup, 8 oz blender bowls
All cups, bowls, and pitchers are self-cleaning
All containers are dishwasher safe
Best-in-class durability and 10-Year warranty
Made In The U.S.A.!!!
4 color options on A2300 and A2500 models

White, Black, Slate, and Red

Premium metal finish on A3300 and A3500 models

Including Brushed Stainless, Copper, Graphite, Candy Apple, and more
Expensive
17.25″ Tall (measure before you buy!)
Most Self-Detect accessories sold separately
Classic Power, New Versatility
One of the newest models from one of the most trusted names in the world of blending, the Vitamix Ascent Series Smart Blenders are 2nd to none. Their attention to detail and dedication to quality makes them an essential tool for every home chef.
Offering a unique hybrid blending experience, the Ascent Series transforms to fit almost any food-processing need.
The only real drawback to the Ascent Series is that the blender cups, blender bowls, and other attachments are sold separately. The Ascent 2300 family pack is the only bundle that includes a 20oz Blender Cup, two 8oz Blender Bowls, and the screw-on Blade Base.
On the other hand, they've continued to release more compatible containers, including:
With Vitamix's 10-year warranty, chefs of all skill levels will have one of the most powerful kitchen tools to help you learn and grow. While the A2300 and A2500 are built to last, the A3300 and A3500 are even tougher.
Both A3300 and A3500 feature a metal finish in these color options:
Brushed Stainless
Matte Black
Black Stainless
Copper
Graphite
White
Candy Apple
Paired with your phone, the Ascent Blender and Vitamix app will guide you through the 500+ recipes from start to finish. The app can also pair with almost any Bluetooth 4.0+ scale, which it uses to confirm proper portions and ingredient amounts.
For beginners, it's a great way to learn all of the different ways to use your Vitamix Ascent blender. For experienced chefs, it's a great way to automate some of your tasks so that you can concentrate on other things.
The Self-Detect capabilities of the Ascent blenders can even read the container size. This allows it to adjust the power and blending time to make sure your creations blend perfectly every time.
From creating homemade ice cream to heating soups made from scratch, the Vitamix Ascent series is one of the healthiest and most versatile tools for your kitchen.
When it comes down to choosing which model is perfect for you, there's not too much of a difference. Even the base model (A2300) blows every other home blender we've tested out of the water.
We've heard plenty of feedback like, "they don't make them like they used to," but that also goes for cheaper options, if not more. We went through plenty of "premium" blenders in our own kitchen before deciding to make the smart investment in Vitamix. The only thing we regret is not doing it sooner.
If your household is full of smoothie lovers like mine, you'll come to appreciate the power and durability. No matter which model you choose, you'll be getting their powerful motor and premium blade assembly, that should last a lifetime.
Vitamix Ascent Accessories