The Cuisinart Chef's Convection Toaster Oven is a cook's best friend. With 11 main cooking functions and a large capacity, it's an essential tool for any size household. Here's why…
Cuisinart Chef's Convection Toaster Oven: Specs
Watts: 1,875 Watts
Temp Range: 150° – 500° F
Capacity: 26L (7 lb. Chicken) (14.25″ W x 13″ D x 7.5″ H)
Exterior Dim: 20.87″ W x 16.93″ D x 11.42″ H
Racks: Dual Rack (4 slots)
Pieces Of Toast: 9 per rack
Max Pizza Size: 13″ 
Rotisserie: No
Air Fry: No
Thermometer: No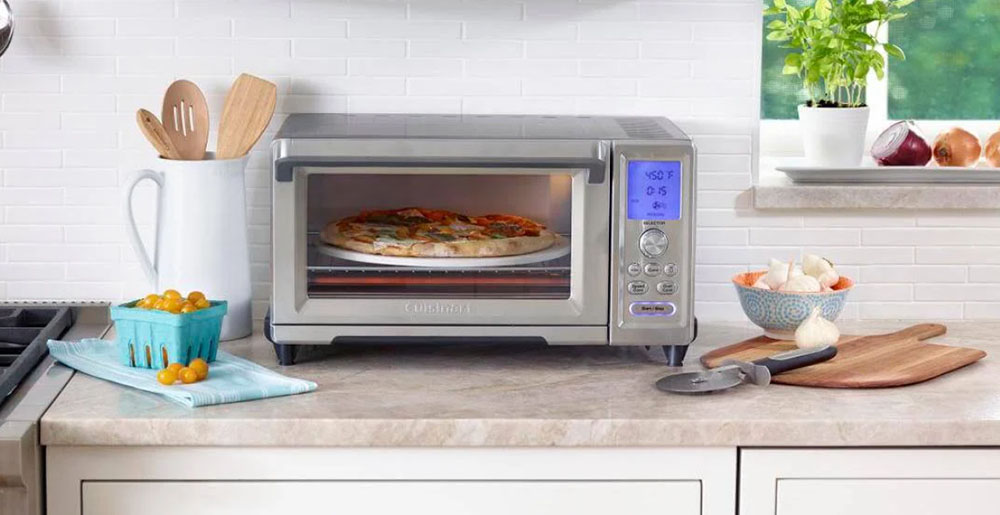 "15" cooking functions
Powerful 1,875 Watts of cooking power
13″ Pizza stone included in accessory set
Dual-rack baking
Convenient "+30 seconds" button works during any cooking function
2-Hour+ digital timer
Brushed Stainless Steel finish is easy to clean
Hidden crumb tray for quicker cleanup
Exact Heat™ temperature control system
Dual-cook feature for using 2 cooking functions back-to-back
Speed convection mode (no pre-heating needed)
Large 26L capacity (0.95 cubic feet)
30-recipe inspirational guide
3-year limited warranty
Lowest temperature setting is only 150° F
No Air Fry feature
No extended slow cooking/roasting function
No Dehydrate cooking function
No Delay Cook or Start Time feature
      I'm not sure where they came up with 15 total cooking functions, but I count 11, and that's being generous by including the Dual-Cook. Features like Speed Convection and Defrost are only modifiers of some of the main cooking functions. Here's a complete list of the ACTUAL cooking functions:
Bake
Broil
Roast
Toast
Bagel
Waffle
Pizza
Sandwich
Keep Warm
Leftover
Dual-Cook
With a minimum temperature of only 150° F, the temperature range is narrower than most countertop ovens in the same class. Unfortunately, that limits you from some popular cooking functions like dehydrate, proof, and more.
Ultimate Cooking Precision
Even though the Cuisinart Chef's Convection Toaster Oven is missing some common low-temp cooking functions, it makes up for it in cooking accuracy. Cuisinart's Exact Heat™ and Always Even™ temperature control systems use multiple sensors to ensure accurate and even heating.
Whether it's a roast or just some toast, it comes out perfect every time.
Combined with the Convection or Speed Convection modifier, it's one of the most accurate countertop convection ovens we've reviewed.
If you have a large family, you'll love making breakfast in this countertop oven. The large stainless steel oven racks can hold up to 9 slices of toast, 9 bagel halves, or about 6 waffles. Plus, all three cooking functions let you choose from 7 different toasting levels.
One of the biggest questions we've seen floating around is, "What's the difference between the Toast and Bagel cooking options?" The answer is simple.
In the Toast mode, both the top and bottom heating elements are on, so every piece of toast is toasted evenly on each side.
In the Bagel mode, only the top heating element is fired up. This is a big deal for most bagel-connoisseurs because a properly toasted bagel is only supposed to be toasted on the cut side. That way, the outside is still soft and chewy.
Either way, you can give away or throw away your toaster.
The interior can fit up to a 13″ pizza and comes with a premium 13″ pizza stone. Combined with the Speed-Convection feature, it's one of my favorite countertop ovens to cook pizza with. Plus, depending on the style of pizza, you can get away with cooking two pizzas at a time with the dual rack setup.
If you've never cooked with a pizza stone before, you're in for a treat. It takes a little extra time because you want the stone hot before placing the pizza on it. That's what gives your pizza the perfect crispy bottom without burning the cheese and other toppings.
Even though the Cuisinart Chef's Convection Toaster Oven is missing a few common cooking functions, there's still A LOT to love. The powerful 1,875 Watts and dual-rack cooking ability make it an excellent tool for kitchens, big and small.
It's one of the best replacements for your microwave and toaster alone, but it does so much more! With the easy-to-use control panel, even beginners can take full advantage of all the cooking functions.
Other Toaster Oven Upgrades