Weight: 430 g
Dimensions (Unfolded): 6.6″ x 7.2″ x 2.5″ (168 x 184 x 64 mm) (LxWxH)
Dimensions (Folded): 6.6″ x 3.3″ x 1.9″ (168 x 83 x 49 mm) (LxWxH)
Max Speed: 42.5 mph (19 m/s)
Max Takeoff Altitude: 16,404 feet (5,000 m)
Battery Capacity: 2,970 mAh
Max Flight Time: 21 minutes
Max Flight Distance: 6.2 miles
Max Wind Speed Resistance: Level 5
Operating Temperature Range: 32° – 104° F
GNSS: GPS + GLONASS
Internal Storage: 8GB
Flight Modes: Sport, Photography, and Wi-Fi
Camera Sensor: 1/2.3″ CMOS Sensor; 12MP;
Camera Lenz: 85° FOV; f/2.8 Aperture;
Photography Modes:

Single
Burst shot
Auto Exposure Bracketing (AEB)
Interval
HDR Panoramic: Pano, 180°, 3×3, and Sphere
JPEG/DNG (RAW)

Video Resolution: 4K Ultra HD; 2.7K; FHD; HD; 100Mbps; MP4/MOV
Automated Video Modes:

FocusTrack (Spotlight, ActiveTrack, and P.O.I.)
Circle
Boomerang
Rocket
Dronie
Rocket
Asteroid

Remote Controller: 2.4 GHz; 5.8 GHz; 2,970 mAh battery; 720p Live View
Premium 4K Ultra HD video
ActiveTrack automated flight mode
RAW image capture
Burst Shot
Good live stream video quality with low latency
Long flight range
GPS + GLONASS navigation
Great handling and obstacle avoidance
Tracking, Waypoint, and other automated flight modes
Control with a mobile device
Compact, folding design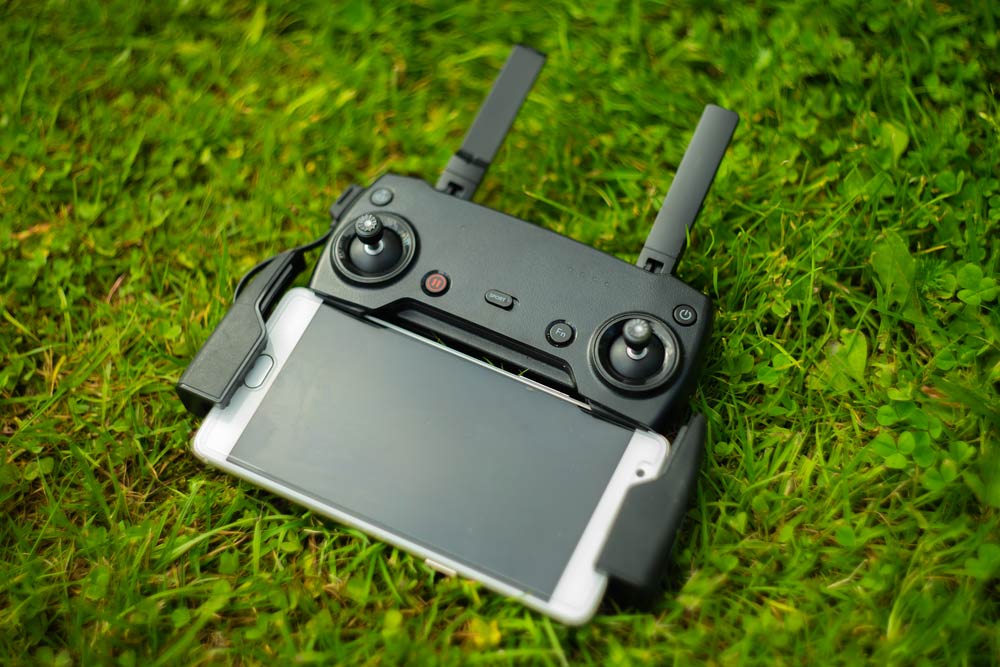 Below-average battery life
Difficult to export Pano mode images
Not good range in urban areas
ActiveTrack has issues staying focused on the subject
The battery life was a bit of a disappointment. On the other hand, the Fly More Combo bumps your total flight time up to 60+ min.
Even though the Mavic Air has a fun Sports Mode to fly in, the camera is the real reason to choose this drone. Shoot in up to 4K Ultra HD at 30 fps max, or capture some super-slow motion in FHD at 120 fps max.
The ActiveTrack is where the video camera really shines. Get those dramatic aerial action shots without the need for a helicopter and camera crew. You're going to want to be careful around trees and abrupt elevation changes, though.
When it comes to still shots, you get handy modes like burst shot, interval, and even Auto Exposure Bracketing (AEB). The automated flight capabilities are also used in this mode to get wide-angle, sphere, and other unique panoramic shots.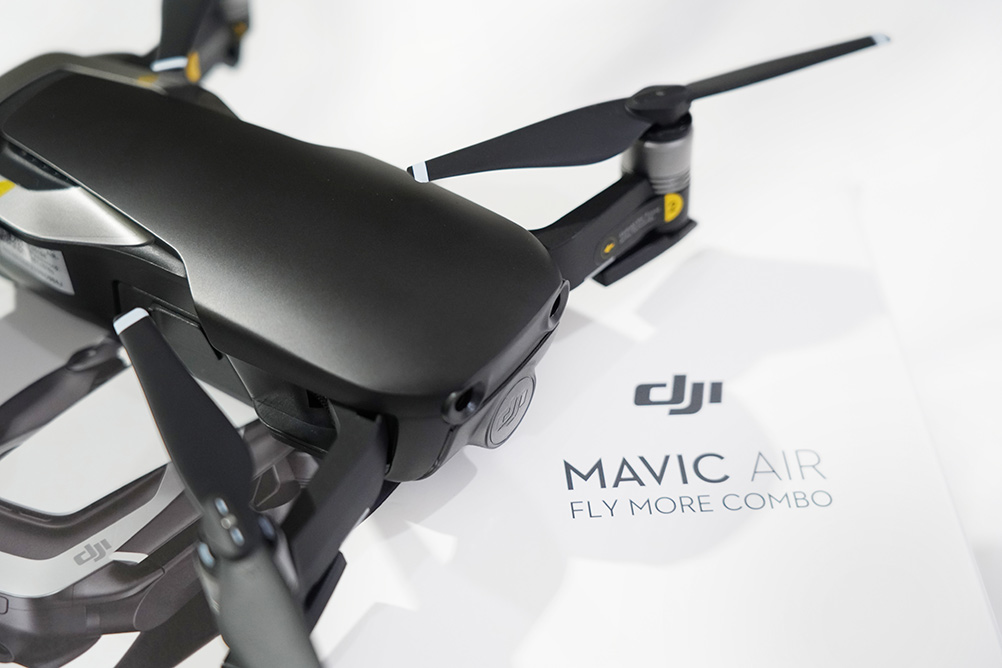 The DJI Mavic Air was an instant classic when it was first released. Years later, it's still one of the best all-in-one camera drones available. Perfect for business AND pleasure, it features plenty of automated video modes and panoramic modes.
With the DJI Mavic Air Fly More Combo now under $1,000, there's not many better options for newbies to the drone world. Plus, if you're a budding photographer, you'll find plenty of advanced camera features to help you grow into a skilled aerial photographer.
The DJI Smart Controller is more expensive than the DJI Mavic Air itself, so it may not seem practical. On the other hand, if you have (or plan to have) 2 or more drones that are OcuSync 2.0+ compatible, it's worth the investment.
Besides the convenience of having a phone-free flying, you'll also be able to fly all of your compatible drones with this one controller. Plus, there's plenty of little luxuries, like auto-connect, VR compatibility, and detachable control sticks.
DJI Mavic Air vs Mavic Air 2
Even though the DJI Mavic Air is a great option for beginners, the new low price for the Mavic Air 2 puts it in the same category. The was some nice upgrades to the camera, but the main upgrades where made to the flight performance.
See all the major differences in our DJI Mavic Air vs Mavic Air 2 article. It's a simplified breakdown, so even newbies to the drone world, can pick the perfect starter drone for your needs…