Protect Your Electronics With
TableCoaster & CouchCoaster
Nothing will ruin your concentration or interrupt a meeting worse than spilling your drink all over whatever you're working on. Not to mention, money spent on replacing damaged devices. Luckily, a British inventor has you covered with the coolest coasters you've ever seen.
From the same brain that created the phonetag, the TableCoaster and CouchCoaster are some of the best ways to prevent spills and protect keyboards, laptops, and other electronics from spills.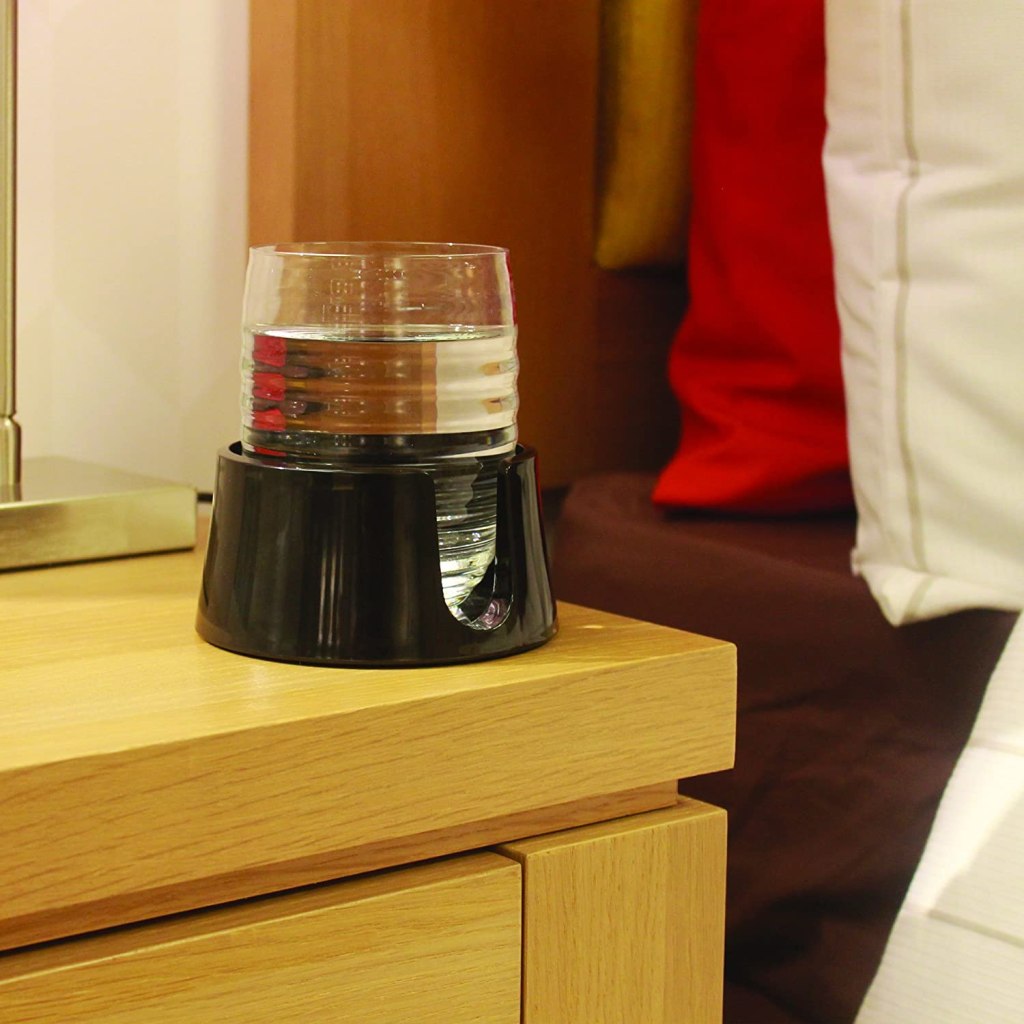 With the optional insert, the TableCoaster and CouchCoaster can go from holding mugs and large cups to holding cans, bottles, and other narrow drink containers. Plus, whether you use the TableCoaster or the CouchCoaster, you'll never deal with sticky adhesive residue, clamps, or other complicated fasteners.
The CouchCoaster is pretty self-explanatory when it comes to how it stays in place. The silicone side flaps grip the arm of the chair or couch and the integrated weights prevent the CouchCoaster from sliding side-to-side.
The TableCoaster's way of staying put is a little more complex, but just as simple to use. The micro-suction base has a surprisingly strong reusable adhesive that works on MANY flat surfaces. The best part is that the adhesive surface is washable, so it works for repeated indoor AND outdoor use.
Besides your desk and nightstand, the TableCoaster is essential for boats, RV's, pontoons, and anything having to do with kids. The premium white or black finish is easily washable and matches most styles. The surface is also perfect for adding your own stickers or businesses to add their branding for employee workstations.
One of the best uses is on stand-up desks, especially the styles that are convertible from standing to sitting. With so many companies providing these desk modifications to their employees for free, it seems like it should be a package deal. Until then, get your Table Coaster (or CouchCoaster) right here.
Thickness: 4mm (phonetag brand) (varies widely by brand and style)
phonetag Ring Holder and Kickstand
     Formally, it was known as the name for trying to get a hold of someone over the phone. Nowadays, phonetag is the name for trying to get a hold of your phone. This premium phone holder and kickstand combo is one of the latest and greatest ways to secure your phone.
     The minimalistic, rounded design is the perfect look for girls or guys, and has a similar look to iPhones and Apple Watches. Even though the ring holder comes in handy, the kickstand is the best function of the two. Compared to traditional ring phone holders, the phonetag's longer tag-style design makes the kickstand feature far more effective than any other we've tested. Also, depending on where you place the phonetag, you'll be able to use the kickstand in landscape AND portrait mode at a wide range of viewing angles…