Use the OBDLink MX+ as your first line of defense against breakdowns and shady mechanics. Easily diagnose almost any automotive ailment from anywhere with this compact and comprehensive OBD2 scanning tool.
User-friendly app interface
Accurate trouble code reading
High sampling rate for more accurate live data
Compact design with no wires
Customizable live data dashboards
In-app trip mapping with advanced
Performance mode tracks time-splits up to a 1/4 mile and 0-60mph
SW-CAN & MS-CAN protocols offer deeper diagnostics for GM and Ford vehicles (also works with diesel engines)
Compatible with numerous 3rd party OBD apps for Android, iOS, Kindle Fire, and Windows PC
BatterySaver™ Technology
FREE Downloadable enhanced modules for vehicle-specific readings

OBD2, EOBD (Europe), and JOBD (Japan) system standards



Built-in security to protect your vehicles network
3-Year warranty
Displays valuable live data for Tesla's
No manual controls for advanced troubleshooting (only 1-way)
In-app purchase for some extra manufacturer codes
No detailed repair reports with suggested fixes (just reads trouble codes)
One of my favorite features for the OBDLink MX+ is the compatibility with numerous 3rd-party apps. Most importantly, it allows you to get more specific and accurate readings based on the make and model of the vehicle and how you drive it.
Whether you're a heavy commuter or you like to race, you'll find a compatible app to fit your driving style. Plus, some of the apps are available on Windows PC!
Here are some of the most popular apps the OBDLink MX+ is compatible with:
FORScan
Torque
AlfaOBD
BimmerCode
Carista
Dashcommand
MotoScan
OBD Fusion
Hybrid Assistant
Dr. Prius (Toyota/Lexus hybrid battery health)
OBD Auto Doctor
and more…
For Tesla owners, it may seem pointless to use an OBD scanner because their main purpose is to read trouble codes on gas and diesel engines. The OBDLink MX+ is different.
Using the Scan My Tesla app (iOS / Android) and an OBD scanner adapter, you can connect the OBDLink and get lots of live data. Plus, the app has a handy trip recorder to track the overall efficiency of your Tesla. Here are some of the metrics that you can customize on the app's dashboard:
Battery lifetime stats and estimates
Battery voltage, power, temperature, etc.
Drive unit torque, RPM, temperature, etc.
and more…
While we don't recommend working on your Tesla in your home garage, the benefit of all the live data the OBDLink provides is primarily educational. Simply, it's a way to see most of your Tesla's metrics that aren't viewable from its main screen.
The OBDLink MX+ has all the essential live data metrics to help diagnose and monitor your vehicle's health. Here are the live metrics you'll be able to view in the app:
MPH
Engine Temp
RPM
MAF
Fuel Rate
Battery
O2 Sensors
Total and Instant Fuel Economy
Vehicle Speed
Boost psi
The best part about this feature is that you can customize the dashboards, so you can view and track what you want. Plus, the high sample rate makes the OBLink MX+ one of the best consumer OBD scanners for live data.
Even though we don't condone street racing, the Performance Mode is a nice perk. For all of you "weekend warriors" that like to hit your local tracks or off-road trails, the OBDLink MX+ is essential.
Besides the customizable live data dashboards, you can easily toggle over to Performance Mode and track your splits. Record your 0-60 mph times and everything up to your 1/4 mile times. Here's a full list of splits you can track in OBDLink's app:
60 ft
330 ft
1/8 mi
1,000 ft
1/4 mi
The live mapping is also a nice feature for hitting the track and trails because of the advanced data it collects. Just like a GPS watch for runners, it uses color-coding on the path to show your speed on any given part of the track or trail. Plus, it highlights the fastest part of your race or time trial.
For people who have long commutes, this is also valuable data to help you identify roads and segments you may want to avoid in the future.
Advanced Scanning Metrics (SW-CAN & MS-CAN)
Besides the metrics provided by the OBD-II protocols, the OBDLink MX+ features SW-CAN and MS-CAN protocols. These are GM's and Ford's proprietary protocols to give owners a better view of their vehicles' health status. Basically, if you're planning on using this on GM and/or Ford cars and trucks, this scanner is the best.
The SW-CAN and MS-CAN support allows you to view the status of systems not available through most generic OBD-II scan tools like:
Anti-Lock Brakes (ABS)
Airbag
Headlight
Traction Control
Seat Belt
and more!
A great advantage to Bluetooth scanners like this is that you can leave them plugged in and use them as a vehicle health monitor. The problem with most OBD2 scanners that claim this feature is that they don't have an efficient sleep mode.
The sleep mode is necessary because the OBD port is hardwired to the battery, so turning off the car doesn't completely turn off the scan tool. Their built-in sleep mode will automatically turn off the device after a set time. (Usually 10-15 min)
The power consumption doesn't stop there though, and that's what makes the OBDLink MX+ superior to its competitors. While most Bluetooth scan tools draw around 20mA or more when the car is off, the OBDLink MX+ only draws a current of 2mA.
To put it simply, if your vehicle sits for more than a couple of days to a week, you could find yourself with a dead battery. With the OBDLink MX+'s best-in-class 2mA sleep mode, you'll still have enough power to start even after 3-4 weeks!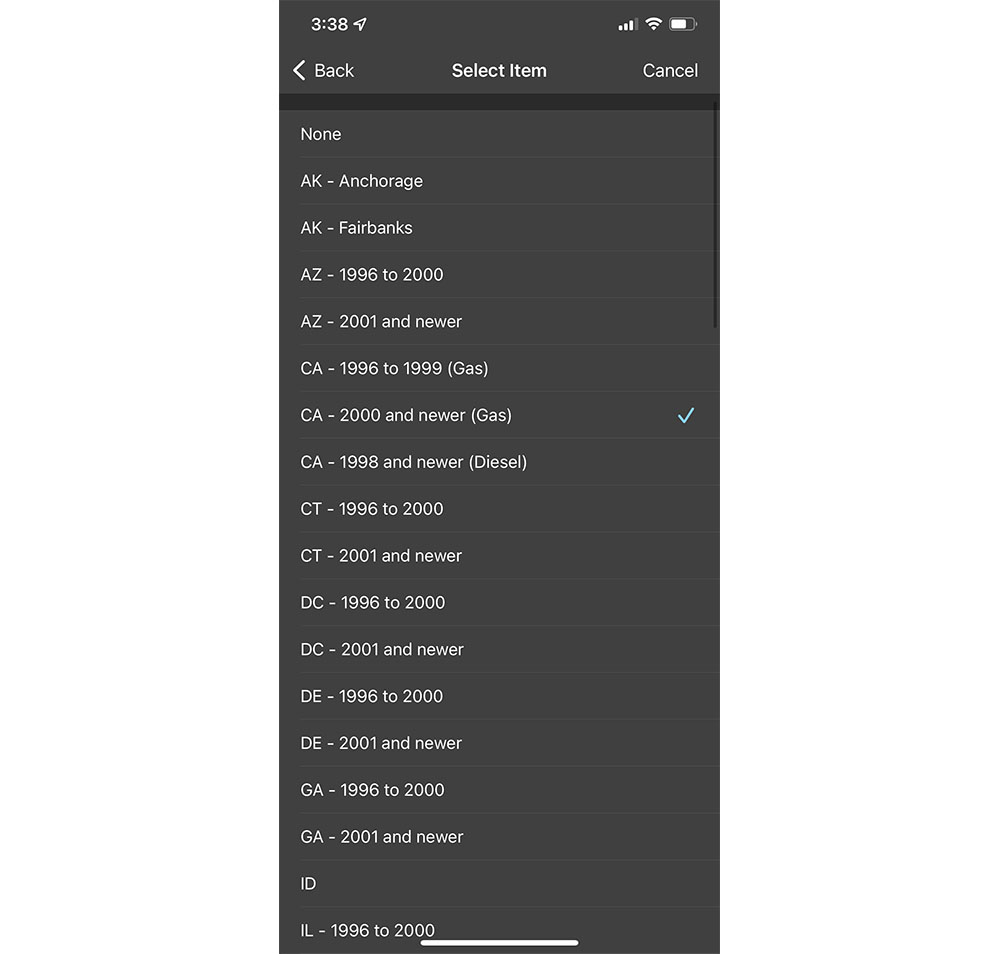 One of the handiest features of OBDLink MX+ is the Monitor Tests. If you live in a state that requires smog checks to register your vehicle, then you know the frustration when it fails the test. The OBDLink app makes it easy to check for yourself before you waste a trip.
Simply go to the "Monitors" section > Hit "Menu" > then select the state you live in and the year range of your vehicle. The OBDLink MX+ will do its thing and return a pass or fail in the necessary categories.
We could go into much more of the advanced features of the OBDLink MX+, but unless you're an expert mechanic, we might as well be speaking a foreign language. Plus, if you're an advanced home mechanic, you can already see why this is your best option. Unless you want to spend $1,000's on a diagnostic scanner like the style they use at the shop.
When it comes to the average user, this inexpensive device can give you peace of mind and save you $1,000's in unneeded repairs. Whether you didn't screw the gas cap on tight enough or you need to swap out a dirty air filter, the OBDLink MX+ is your best tool to diagnose most issues from home (or anywhere)!