Battery Life: 43 hours (41mm); 56 hours (45mm)
Size(s): 41mm and 45mm
Color(s): Bronze, Silver, and Black
Screen: AMOLED; 1.2″ (41mm); 1.4″ (45mm)
LTE: Yes
Built-in GPS: Yes
Wrist Straps Type: 20mm (41mm); 22mm (45mm) (industry-standard)
Tracking Metrics: Steps, sleep, heart rate (ECG), SPO2, calories, barometer, accelerometer, gyroscope, and compass
Special Feature(s): Rotating bezel for easy and accurate navigation
Music Storage: Yes
Memory Capacity: 8GB
Waterproof Rating: 5 ATM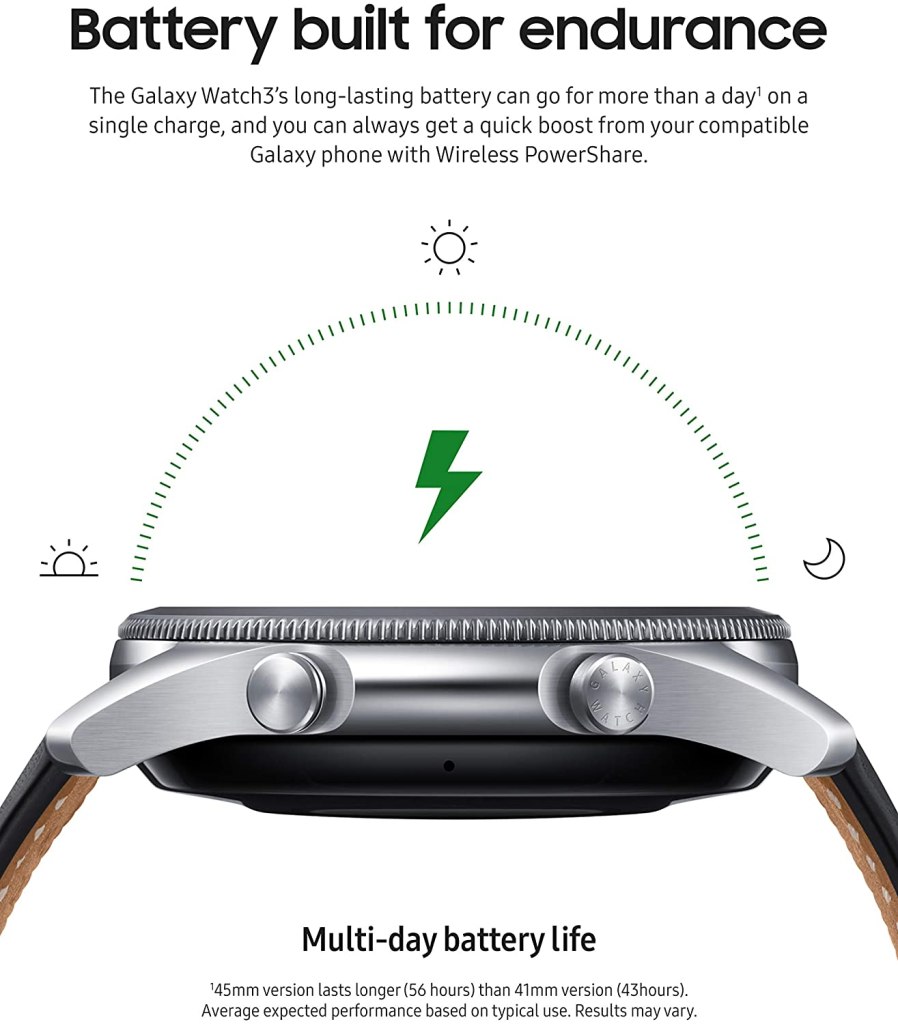 Works on Android and iPhone, but integrates perfectly with Samsung phones
ECG & PPG heart rate monitoring for ultra-accurate tracking
Big beautiful AMOLED screen
Downloadable apps for ever-increasing functionality
Auto-detects workouts and view advanced metrics in the Samsung Health app
1,000's of watch faces and bands to match any style and/or activity
Battery life doesn't live up to expectations unless you use minimal smartwatch features (what's the fun in that?!)
Even the 40mm version is a little bulky unless you have larger wrists
Not all features work on iOS and other Androids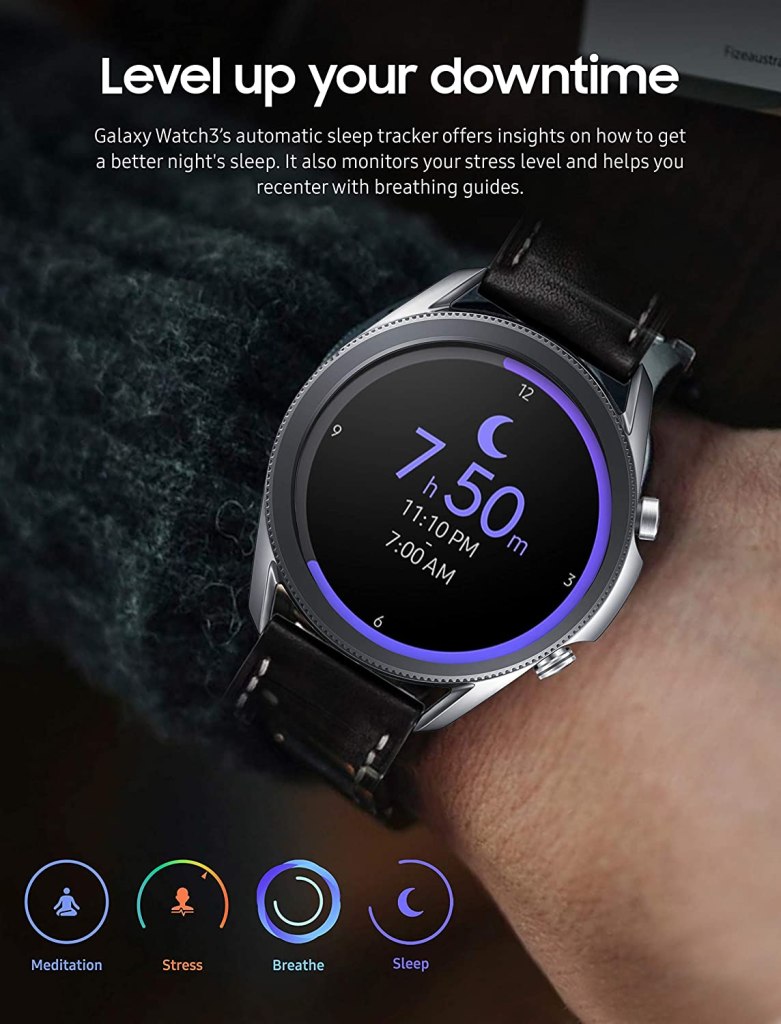 Samsung's wearable software platform, Gear, works virtually flawlessly with Samsung smartphones, plus they offer a nice variety of wearable styles compared to Apple. You can even use most Samsung wearables on iPhone if you're looking for a smartwatch with better battery life and durability.
The Samsung Galaxy Watch 3 is one of the best all-around smartwatches. Featuring a full spectrum of fitness tracking abilities, notifications, apps, and more, the LTE version is literally a phone on your wrist, just like the Apple Watch.
If you have a Samsung phone, you'll enjoy the full smartwatch experience, complete with speakerphone, text/voice reply, social media, and more. The best part is Galaxy Watch 3's universal 20mm and 22mm pin setup. This allows you to swap your stock strap with endless watchband options. On top of that, there are 1,000's of watch face options to mix and match styles or display more tracking metrics on your home screen.
For the best options to replace the stock watchband on your new Samsung Galaxy Watch 3, we put together a list of our top 3 favorite watchband brands. Whether you like sporty silicone straps for fitness or elegant leather bands for formal occasions, all three brands have a HUGE variety of watchbands to choose from. On top of that, they all feature quick-release pins, so you can swap out bands quickly and with no tools.
The most important part of finding the perfect watchband specifically for a watch like the Samsung Galaxy Watch 3 is to get the best fit. To take full advantage of the advanced biometric tracking, you want to have the perfect balance of flexibility and comfort. This will ensure that the heart rate sensor is a strong, consistent connection with your wrist.
Best True Wireless Earbuds For Pairing
     Take advantage of the Galaxy Watch's onboard music storage with a pair of true wireless earbuds. Things like durability, sound quality, and fit are important for any type of use. That's why we organized the best wireless earbuds by style-of-usage, so you can zero in on the features that are important to your lifestyle…
Best Samsung Galaxy Watch 3 Alternatives
Not everybody needs a powerful smartwatch like the Samsung Galaxy Watch 3. Especially for casual gym-goers, there are many fitness-first wearables with more basic tracking and features that would be just as beneficial and could save you money. On the other hand, you might be looking for more smartwatch features like apps and LTE.
Whatever the need, we found the best alternatives for you. Check out our ultimate guide to the best wearables, so you can find the perfect smartwatch or fitness tracker for your lifestyle.