The UA Project Rock Flash and Flash X are very impressive when it comes to audio quality and build quality, but one essential feature got left out from the base (Gold) model. These premium earbuds combine JBL's premium sound, Under Armour's durability, and The Rock's signature, so they should have ALL of the essentials. Right?!
     Wrong! I picked the base UA Flash Project Rock Editions because I prefer the overall style of the brushed gold finish and gold carabiner. The Flash X has more battery and a few other minor upgrades, but the chrome finish is a turn-off to many people because it's a fingerprint magnet. I thought the biggest sacrifice I was giving up was less battery life, but I was proven VERY wrong.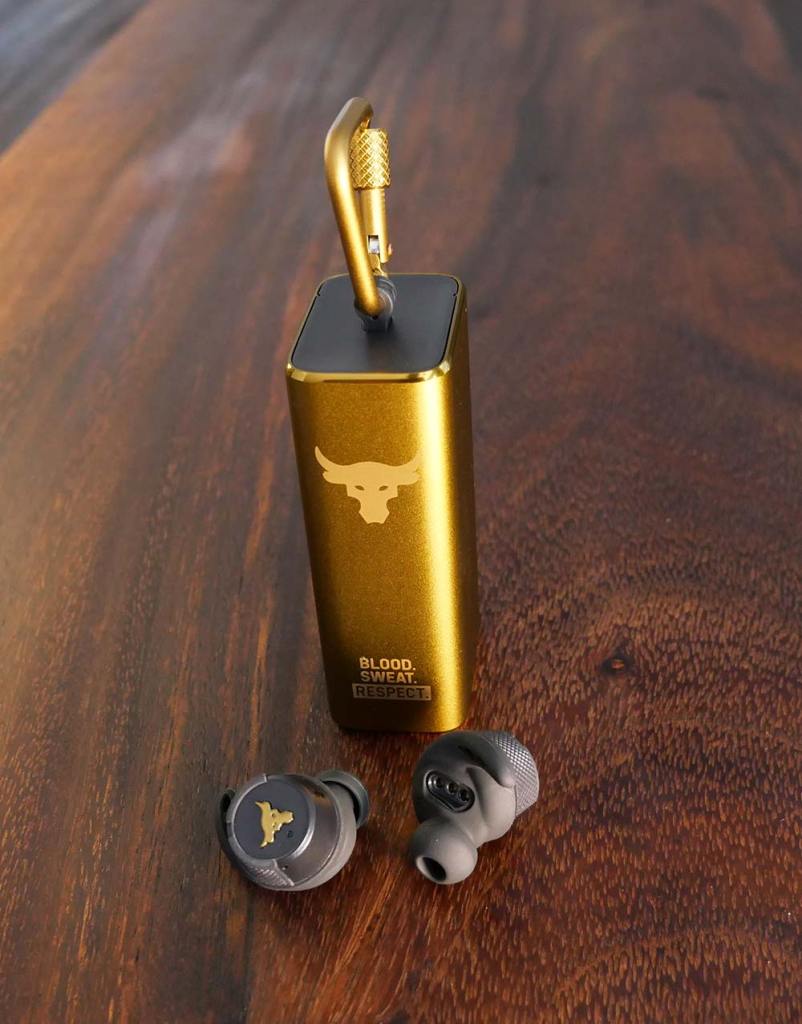 Making the first test call, I found out that NONE of the three built-in microphones (Yes THREE!) are used for calling. I understand saving certain features for the top-shelf models, but damn! It's even more of a head-scratcher since calling works on the NON-Project Rock UA True Wireless Flash Earbuds. WTF?!
For both Project Rock Editions, the mic setup is used for two different Bionic Hearing modes. One-click puts you in TalkThru mode where the music level drops, and voices are amplified so you can hear conversations and announcements. A double-click puts you in Ambient Aware mode, so you can hear traffic when you're walking, running, or biking.
The JBL and Under Armour slide-out charging case is a cool style, but it's too big to fit in most pockets comfortably. Luckily, both models come with an extra plastic carrying case. There's no built-in battery for charging, but it's super-compact and lightweight enough to carry in your sock.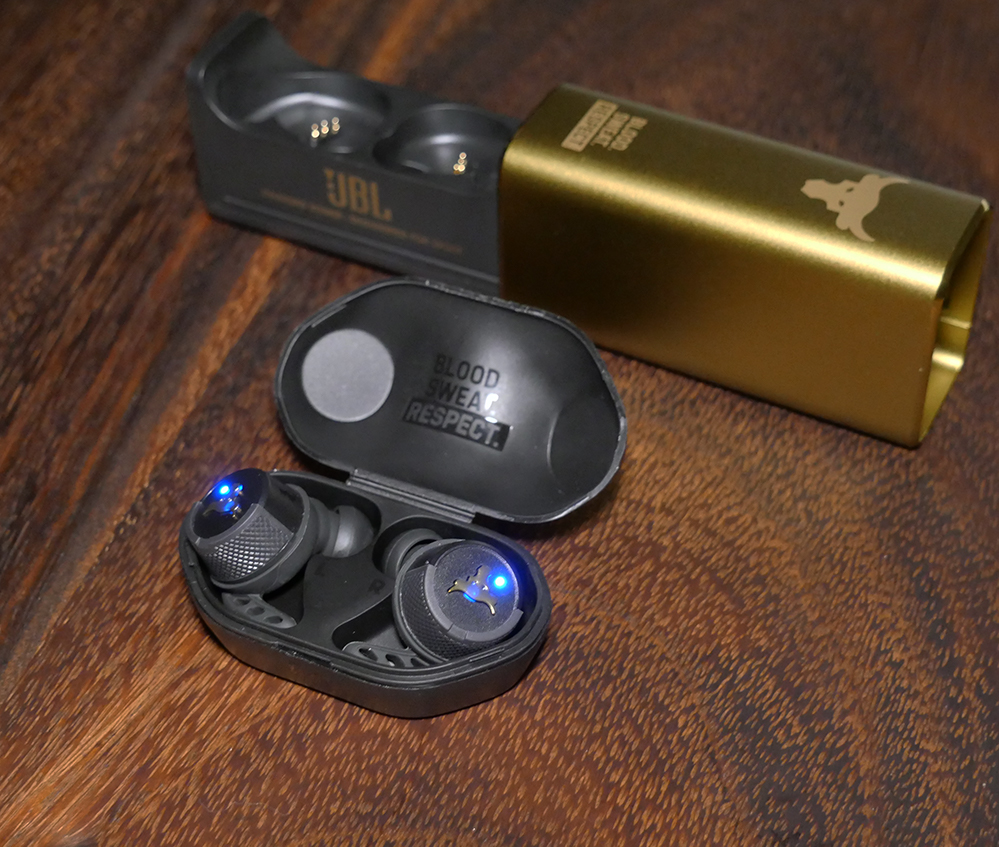 As nice as it is to have an extremely durable charging case, the earbuds themselves need to be built to take a beating. Just like the regular UA Flash and Flash X, they have a solid yet lightweight build. Plus, The IPX7 waterproof rating is about as good as you can get, so heavy sweaters like me, need not worry.
The ear tips and ear wings cover almost the whole skin side of the earbuds, giving them a snug and comfortable fit, and the most noticeable improvement is when you're using the control buttons. They don't feel like your jamming the earbud down your ear canal.
Including the accessory kit, you get 3 sizes of ear tips and ear wings, so you can get the most secure and comfortable fit possible. Plus, they feature a cross-hatched silicone surface that's perfect when handling with sweaty or wet fingers. To put it simply, they're made to "drive hard."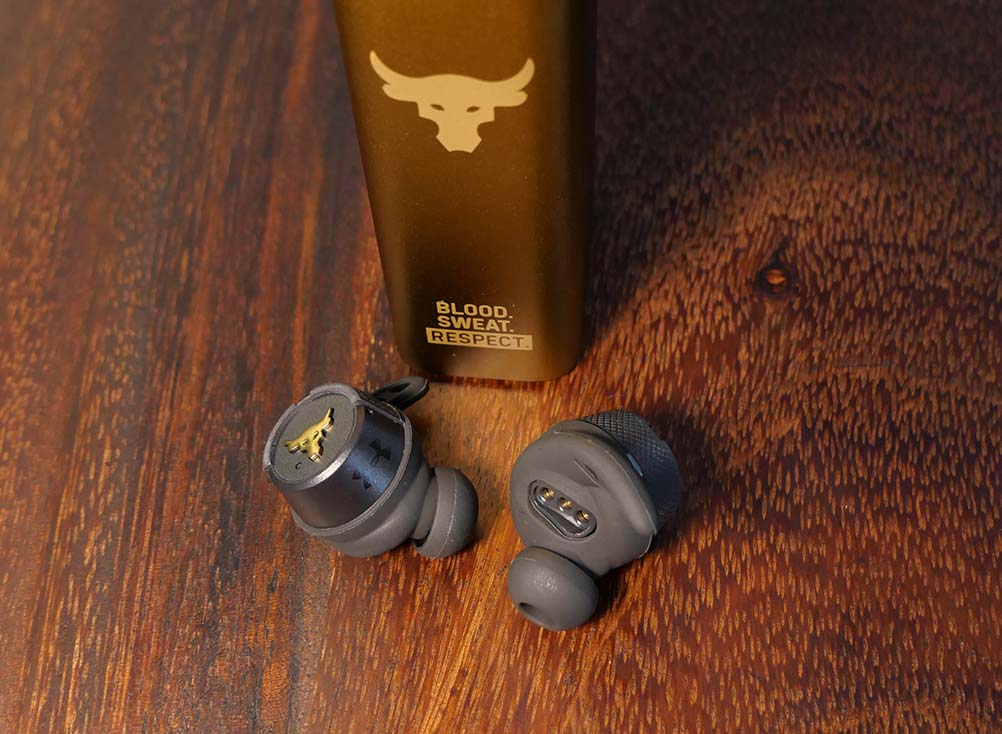 Whenever JBL is involved, you know it's going to sound good. The Project Rock Editions don't bump as much as some of the competition, but the 5.8mm drivers produce an overall level of audio quality that lives up to the JBL name. Combined with their toughness and battery life, they'll go as far as YOU can go.
JBL's signature audio quality
Excellent durability on both earbuds and charging case
Ambient Aware and TalkThru modes are great at picking up traffic and voices
Waterproof IPX7
Bluetooth 5.0 improves battery life, range, and audio quality (Flash X Project Rock Edition)
Great battery life (Flash X Project Rock Edition)
Premium chrome and brushed gold finish options
Carabiner clip with screw lock for extra security
UA MapMyFitness 12-month premium membership (included)
NO CALLING on UA Project Rock Gold model
Bulky charging case
Hard to fit in smaller ears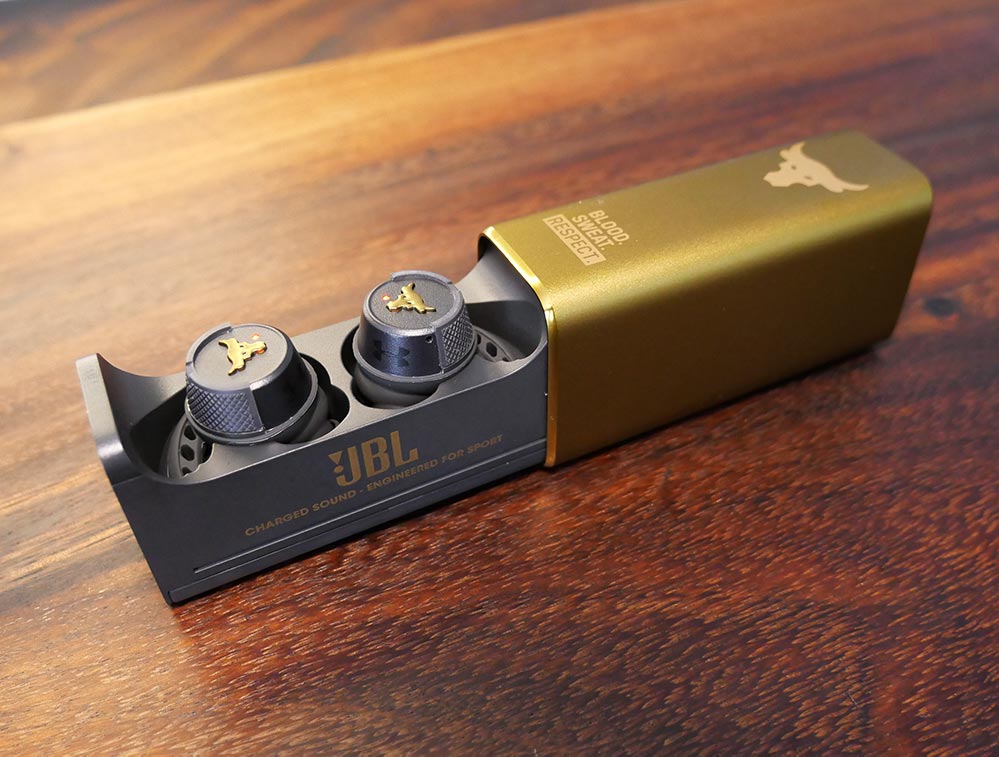 Conclusion: UA Project Rock