Best Smartwatches VS Fitness Trackers
Asking the question, "Should I get a smartwatch or a fitness tracker," is like asking, "Should I get steel-toe boots or running shoes?" They both go on the same place, but they do vastly different things. To find the best wearable for you, there are two main things you want to consider:
What type of smartwatch features do you want?
LTE, app store, talking, texting, social media, and other notifications
How advanced do you want the fitness and health tracking?
Advanced running metrics, multi-sport tracking, auto-sense workouts, PPG/ECG heart rate sensor, blood oxygen level, and more
Don't pay for more than what you need, or worse, don't sacrifice a feature just to fit your budget when you don't have to. This ultimate buyers guide features some of the best wearables from each major style category. Whether you want more smartwatch features or more fitness features (or both), you'll find the best smartwatch or fitness tracker to suit all of your needs:
For iPhone users, the best wearable experience is going to be with an Apple Watch. It's especially true with the LTE version that is literally a mini iPhone for your wrist. The built-in mic and speaker allow you to use it as a speakerphone or connect your AirPods directly for private calls, Facetime, music, and other multimedia.
The heart rate tracking and other biometrics are literally medical-grade, making Apple Watches one of the most popular wearables to help monitor heart disease, diabetes, and other medical conditions. The Apple Watch, along with their Health app, is also a powerful workout tracker. Record lap swims, runs, weightlifting, and more. For more advanced athletes, the app also works seamlessly with Strava, Nike Training Club, Runkeeper, and more.
Samsung's wearable software platform, Gear, works virtually flawlessly with Samsung smartphones, plus they offer a nice variety of wearable styles compared to Apple. You can even use most Samsung wearables on iPhone if you're looking for a smartwatch with better battery life and durability.
The Samsung Galaxy Watch 3 is one of the best all-around smartwatches. Featuring a full spectrum of fitness tracking abilities, notifications, apps, and more, the LTE version is literally a phone on your wrist, just like the Apple Watch.
If you have a Samsung phone, you'll enjoy the full smartwatch experience, complete with speakerphone, text/voice reply, social media, and more. The best part is Galaxy Watch 3's universal 20mm and 22mm pin setup. This allows you to swap your stock strap with endless watchband options. On top of that, there are 1,000's of watch face options to mix and match styles or display more tracking metrics on your home screen.
Best GPS Watch (Entry-Level)
Even though Garmin is the gold standard of fitness-tracking wearables, it's not always their flagship models that impress. The Garmin Venu Series is your best choice if you're looking for a nice mix of smartwatch features, but you don't want to make any sacrifices in sport, health, and wellness tracking.
Slimmed Down Design
While many of Garmin's past wearables are on the bulky side compared to traditional smartwatches, even the circular Venu models measures in at under 44mm. For people with smaller wrists, the Venu SQ Music is the best choice by far. Besides fitting most wrists, the 20mm industry-standard pin setup gives you the freedom to find a matching watchband for any style and activity.
Main Downside: Display
The biggest difference we noticed is that the AMOLED and LCD displays on the Venu Series show very limited information in the Always-On mode. On top of that, some watch faces don't show ANYTHING for the Always-On mode display. The biggest downside to the AMOLED and LCD screens on the Venu and Venu SQ is how they look in the sun. When it comes down to it, nothing beats the transflective displays that most GPS watches are known for. On the other hand, if most of your workouts are in a gym or other indoor/covered setting, you won't notice a difference.
Garmin Connect
The best part of every Garmin wearable is the access to Garmin's health and wellness monitoring platform that stretches across phones, tablets, PC's, and more. It's not as simple and straightforward as the Fitbit app, Apple Health, and other popular tracking platforms, but it has the most advanced features to help you grow from any fitness level. Especially if you're new to wearables, and Garmin in particular, the Garmin Venu Series is the best entry-level fitness-first smartwatch. Yet, it's still powerful enough for advanced athletes.
Best GPS Watch (Advanced-Expert)
The Garmin Fenix watches have always been their flagship series, so they love to pull out all the stops. Coming with almost every basic and luxury feature right out of the box, the Fenix 7 series is the Cadillac of GPS Watches. It even comes preloaded with Garmin's complete collection of topographic, road, trail, golf course, and ski resort maps. Out of all the Fenix 7 models, the 7S Pro is my favorite, but we'll get to why in a sec.
New Touchscreen Capability
Just like with the Garmin Forerunner models, the Fenix uses the 5-button setup for watch navigation. Even though they added touch capability for the first time in the Fenix series, Garmin's button-based navigation is EXTREMELY intuitive and convenient during workouts. Plus, it's nice not having a smudged-up watch face from constant touching.
I'll probably catch some heat for picking the Fenix 7S over the larger Fenix 7 and 7X, but the 7S's more compact design fits the widest range of wrist sizes. At 42mm the 7S still features a large 1.2″ transflective display and features a battery big enough to get you up to 11 days of normal usage (and more with the solar model).
Unless you have large wrists, the Fenix 7 and 7X can be pretty bulky, but the main benefits are the bigger screen and longer battery life.
If you're coming from a traditional smartwatch, you're actually getting a huge upgrade in battery life and sport/fitness tracking, so it's not a difficult sacrifice. Plus, these are the two features that should be most important for you, if you're looking for a wearable to support an active lifestyle.
If you can do without the bells and whistles of traditional smartwatches, take FULL control of your health and wellness with the Garmin Fenix 7 Series!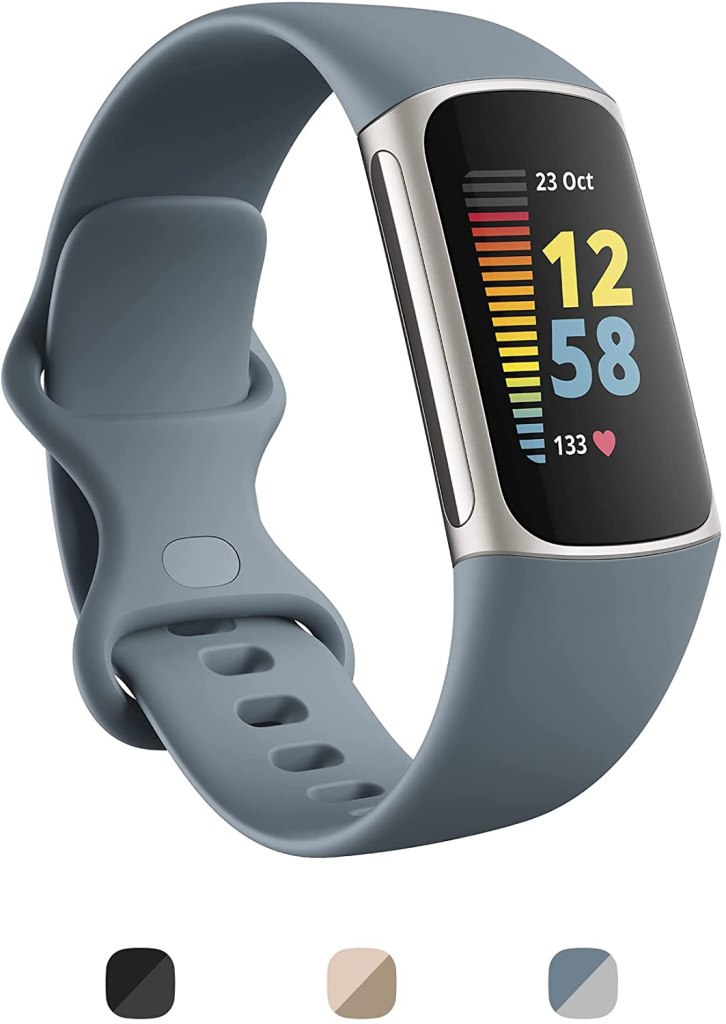 Even though the new Fitbit Charge 5 is one of the best wearables they have to offer, the upgrades have taken the Charge series out of the pure fitness tracking realm. If you're interested in checking it out, here are the best places to buy, and also our full review of the Fitbit Charge 5.
While companies like Garmin and Polar pride themselves on advanced running, swimming, and other metrics, Fitbit does most of the work for you. This is the main reason why the Fitbit Charge 4 is the best fitness tracker for women AND men. The Fitbit app does the best job of giving you simplified feedback based on the wealth of data your wearables collects.
Not everybody needs to know their cadence or stride length when jogging. On the other hand, Charge 4 does a great job of tracking the essentials that most users need to gauge the overall quality of their workouts. Plus, you can get one-on-one coaching sessions to help tailor a routine that's perfect for you.
The only downside is that you have to pay for access to ALL of the features in the Fitbit app, but there's no better option outside of your local personal trainer. The collection of more than 15 guided programs, are perfect for helping beginners through the first 1-3 weeks of establishing better habits and routines. The programs also includes advanced sleep and nutrition analysis, so anyone can get a better understanding of your overall health and wellness.

For more advanced users, you can cherry pick through the hundreds of individual workouts. The Premium subscriptions also gives you access to creating your own Challenges to do with your family and friends. Choose from step challenges, total active minutes, adventure races, and more!
Customize the look and feel with Fitbit's replacement band choices, or hit the net and choose from 1,000's of 3rd-party replacement bands. The main decision when buying is choosing between the Black or Rosewood case color. My personal favorite is the Special Edition Fitbit Charge 4, with the reflective black/granite woven band.
If you like the style of fitness tracking bands, but you want the screen of a smartwatch, the Samsung Galaxy Fit 2 will do the trick. In addition to the large 1.1″ AMOLED display, you get basic smartwatch functions like answering incoming calls, replying to texts with "quick replies," and controlling music.
The biggest difference between the Galaxy Fit 2 and traditional smartwatches is that you can't download apps for additional functionality. What you're getting is a premium fitness tracker with a beautiful color display.
On top of that, the Samsung Health app has everything you need to track health & wellness, including a powerful nutrition tracker.
For people with larger wrists, traditional fitness trackers may look a little dainty. If that's not the look you're going for, the Withings Steel HR Sport is the best wearable alternative to traditional fitness tracking bands.
As a hybrid watch, you get the best of both worlds. The traditional physical hands and movement of a premium wristwatch. Plus, all of the benefits of traditional fitness trackers. Then, it's all tied together with the small circular screen, integrated into the watch face. It allows you to view steps, heart rate, calories burned, distance, and more.
The 40mm black brushed metal body comes with your choice of black or white face, and it features 20mm pins for 1,000's of watchband options. If you don't want to track your Fitness Score or VO2 Max, the Steel HR has all of the other features from the Sport model, plus it comes in Rose Gold and Silver, with additional band colors.
The best part is the app that's compatible with 100+ of the most popular fitness and health apps. This works great for existing smartwatch and fitness tracker owners to easily swap timepieces, based on your style or activity. All while keeping your biometric and other data in one convenient place.
Best Wearables On-A-Budget
If you want top-of-the-line specs and software, without top-of-the-line price, then Amazfit is the family of wearables for you. Amazfit is the American branch of Huami, which happens to be the #1 wearable company in the world. Dedicated to health and wellness, they have a wearable for any style or activity.
Their fitness app, Zepp, is where everything happens. This all-in-one app is used to connect all Amazfit wearables and devices. The powerful fitness platform gives you full control over all of your tracking metrics, workout history, notification settings, watch faces, and more.
The best feature on all of their devices is killer battery life, which comes in handy since most of their devices come standard with built-in GPS.
Depending on their age and whether they have their own phone, your options will vary. If you use a Garmin or Fitbit, the choice is pretty simple for your younger kids, especially if they don't have a phone.
Kids/Tweens
With the Garmin Vivofit Jr. Series and Fitbit Ace Series, you can participate in family challenges and share your progress.
For teens, it'll depend on their phone type and activity level (and their style, of course).
Teens

For your student-athletes, an entry-level Garmin wearable, like the Venu Series or Forerunner 235, would be your best bet. If you're on a budget, the Amazfit (Zepp) brand of smartwatches and fitness trackers gives you the best quality and variety of watch styles, on-a-budget. They all track advanced running metrics, heart rate, sleep quality, PAI™ (overall current fitness health), and more!
It makes sense that the wearables with the best GPS tracking quality would produce the best watch for golfing. Garmin's Approach series is "TaylorMade" for this sport, yet still has all the traditional functions of their watches. Here are the main features that make the Approach series perfect for when your out on the coarse:
Large, colorful transflective display that looks better in the sunlight
40,000 preloaded golf course maps from around the world
Built-in scorekeeping and other stats
Pairable with the Garmin TruSwing golf swing analyzer
CourseView Mapping gives you yardage to green, hazards, doglegs, and more, on full-color maps
From the Approach S10, to the S62, there are plenty of styles and colors to choose from. Plus, the higher your go, the more advanced the golf features get. Our favorite in the series is the Approach S60. It gives you the best mix of physical and software features without "breaking the bank."